Pete Ristagno, inventor of The Trash Hammock, has 20 years of waste experience, both behind the wheel and behind the desk. Never satisfied with the way the industry performed bulk pickups with commercial front loaders, he developed a safer, more efficient solution. Having to send a pickup or rear load truck with multiple employees to a jobsite that was just serviced by your frontload truck logistically does not make sense!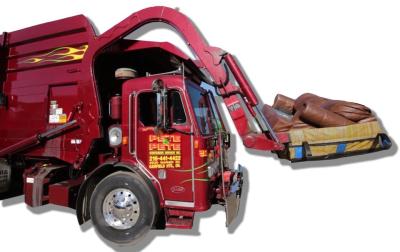 The Trash Hammock does it all, giving you the ability to perform bulk pickups without the need for additional equipment or manpower.
The Trash Hammock makes bulk pickups safe, efficient and profitable for commercial front load. Servicing your customer while already on site, can sky-rocket your profits and will please your customers by not leaving behind any trash or debris. The Trash Hammock also reduces the double handling of trash that is piled up in front of a loaded dumpster. Drivers will no longer have to move excess trash, only to reload it once the container has been emptied, making the process much more efficient. Additionally, the trash hammock reduces loading height for your employees making their job safer, and injury less likely to occur.
The Trash Hammock is made out of a lightweight, strong and durable polyester yarn material. It's reinforced with two different size poly webbing, (the same type of webbing used to secure heavy loads down onto trailers). The 2" webbing has a breaking strength of 10,000 lbs. and the 4" webbing has a breaking strength of 20,000 lbs. The bottom and sides of The Trash Hammock are reinforced with Aluminum Extrusion which are hinged together and can be rolled into a collapsed size of under 1' x 4'. The Trash Hammock weighs around 30 lbs. which makes it easy to store inside or mount under the truck body with our "Hammock Mounting Kit".
With The Trash Hammock you will quickly see a return on your investment!
No more double handling trash to access loaded dumpster
Avoid high lifting heavy bulk items into dumpster
Eliminates the need for additional manpower & equipment
No more risky balancing bulk items on the F.L. forks
Improve customer service by not leaving behind trash