---
With over 20 years of commercial waste experience we've patented a product that'll make all pick-ups safe, efficient and profitable for commercial front-loaders.
The Trash Hammock is a portable, lightweight yet durable poly-tarp material that attaches to any commercial front-loader. It gives the driver capability to dispose of large bulk items without the need for any additional manpower or equipment. At just 1' x 4', the Trash Hammock can be stored inside or outside the front-load vehicle and it arrives fully assembled. The Trash Hammock is simply unrolled, slid over the forks of the front loader, attached to the center with a draw string and it's ready to work.
With the efficiency of the Trash Hammock it creates greater profits for the hauler. The Trash Hammock gives the driver a much safer loading height and it allows you to better service your customer by being able to perform bulk pickups while onsite with the same equipment and operator. In the time it takes to incorrectly load one mattress with the front load forks, the trash hammock safely performs three bulk pick-ups which increases revenues for the hauler.
---
Quickly Attaches For Ease And Safety

Aluminum Reinforced For Greater Strength
---
Check out our demo video ↴
---
About the Trash Hammock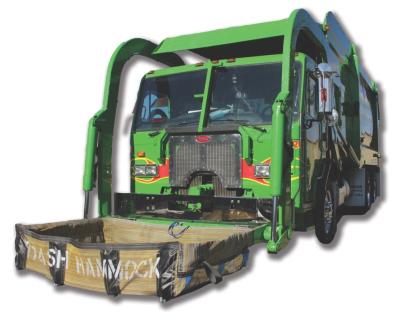 The Trash Hammock does it all, giving you the ability to perform bulk pickups without the need for additional equipment or manpower.
The Trash Hammock makes bulk pickups safe, efficient and profitable for commercial front load. Servicing your customer while already on site, can sky-rocket your profits and will please your customers by not leaving behind any trash or debris. The Trash Hammock also reduces the double handling of trash that is piled up in front of a loaded dumpster. Drivers will no longer have to move excess trash, only to reload it once the container has been emptied, making the process much more efficient. Additionally, the trash hammock reduces loading height for your employees making their job safer, and injury less likely to occur.
---